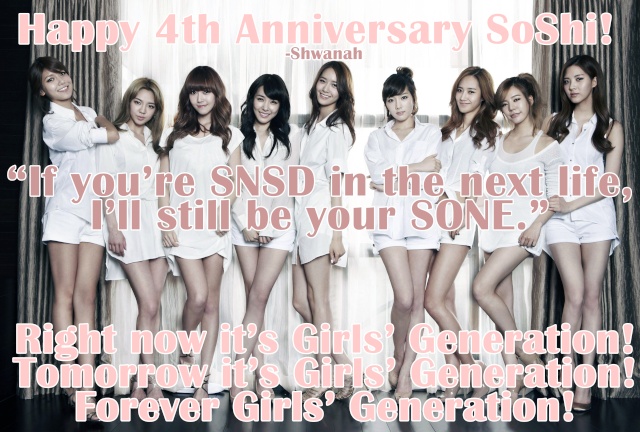 On August 5th 2007, 9 girls (Taeyeon, Jessica, Tiffany, Sunny, Yuri, Hyoyeon, Sooyoung, Seohyun, Yoona) came "Into The New World" and showed us their diverse talents and personalities ♥
SNSD debuted around the strongest era, the "boy group" era, where "girl groups" were mostly looked down upon...
Although it seemed impossible to break that trend SNSD managed to grab the hearts of many people within a short amount of time and let people know that RIGHT NOW it's Girls' Generation!
Throughout these 4 years no one in SNSD left or joined. They were 9 girls who hurt together, ate together, and cried together. But mostly importantly, together, they shared one heart!
SNSD also never gave-up, never backed down, and was fearless continuously fighting their obstacle courses. Thus, the reason why So Nyeo Shi Dae is one of the most loved people in the world today!
Right now it's Girls' Generation! Tomorrow it's Girls' Generation! Forever Girls' Generation! ♥
I LOVE YOU GUYS AND HAPPY ANNIVERSARY SNSD UNNIES! ♥